Staff at EMBL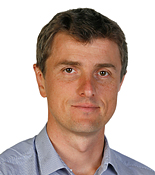 Dr. Yannick Schwab
Team Leader and Head of Electron Microscopy Core Facility
Schwab Team Electron Microscopy Core Facility
EMBL Heidelberg, Meyerhofstraße 1, 69117 Heidelberg, Germany
Biography
PhD 2001, Louis Pasteur University, Strasbourg.
Postdoctoral research at the University of Calgary, Canada and at the IGBMC, Illkirch, France.
Head of Electron Microscopy at the Imaging Center, IGBMC, Illkirch, France.
Facility head and team leader at EMBL since 2012.
Publications
Endothelial Cilia Mediate Low Flow Sensing during Zebrafish Vascular Development. Goetz, J.G., Steed, E., Ferreira, R.R., Roth, S., Ramspacher, C., Boselli, F., Charvin, G., Liebling, M., Wyart, C., Schwab, Y. & Vermot, J. Cell Rep. 2014 Mar 13;6(5):799-808. doi: 10.1016/j.celrep.2014.01.032. Epub 2014Feb 20. Europe PMC
Correlative Light and Electron Microscopy: From Live Cell Dynamic to 3D Ultrastructure. Spiegelhalter, C., Laporte, J.F. & Schwab, Y. Methods Mol Biol. 2014;1117:485-501. doi: 10.1007/978-1-62703-776-1_21. Europe PMC
Using correlative light and electron microscopy to study zebrafish morphogenesis. Goetz, J.G., Monduc, F., Schwab, Y. & Vermot, J. Methods in Molecular Biology (In press).
Myotubularin and PtdIns3P remodel the sarcoplasmic reticulum in muscle in vivo. Amoasii, L., Hnia, K., Chicanne, G., Brech, A., Cowling, B.S., Muller, M.M., Schwab, Y., Koebel, P., Ferry, A., Payrastre, B. & Laporte, J. J Cell Sci. 2013 Apr 15;126(Pt 8):1806-19. doi: 10.1242/jcs.118505. Epub 2013 Feb26. Europe PMC
Birbeck granule-like "organized smooth endoplasmic reticulum" resulting from the expression of a cytoplasmic YFP-tagged langerin. Lenormand, C., Spiegelhalter, C., Cinquin, B., Bardin, S., Bausinger, H., Angenieux, C., Eckly, A., Proamer, F., Wall, D., Lich, B., Tourne, S., Hanau, D., Schwab, Y., Salamero, J. & de la Salle, H. PLoS One. 2013;8(4):e60813. doi: 10.1371/journal.pone.0060813. Epub 2013 Apr 5. Europe PMC
A pathway for unicellular tube extension depending on the lymphatic vessel determinant Prox1 and on osmoregulation. Kolotuev, I., Hyenne, V., Schwab, Y., Rodriguez, D. & Labouesse, M. Nat Cell Biol. 2013 Feb;15(2):157-68. doi: 10.1038/ncb2662. Epub 2013 Jan 20. Europe PMC
Selective autophagy degrades DICER and AGO2 and regulates miRNA activity. Gibbings, D., Mostowy, S., Jay, F., Schwab, Y., Cossart, P. & Voinnet, O. Nat Cell Biol. 2012 Dec;14(12):1314-21. Europe PMC
The BAR Domain Protein Arfaptin-1 Controls Secretory Granule Biogenesis at the trans-Golgi Network. Gehart, H., Goginashvili, A., Beck, R., Morvan, J., Erbs, E., Formentini, I., De Matteis, M.A., Schwab, Y., Wieland, F.T. & Ricci, R. Dev Cell. 2012 Oct 16;23(4):756-68. doi: 10.1016/j.devcel.2012.07.019. Epub 2012Sep 13. Europe PMC
In vivo visualization of delta opioid receptors upon physiological activation uncovers a distinct internalization profile. Faget, L., Erbs, E., Le Merrer, J., Scherrer, G., Matifas, A., Benturquia, N., Noble, F., Decossas, M., Koch, M., Kessler, P., Vonesch, J.L., Schwab, Y., Kieffer, B.L. & Massotte, D. J Neurosci. 2012 May 23;32(21):7301-10. Europe PMC
Mouse delta opioid receptors are located on presynaptic afferents to hippocampal pyramidal cells. Rezai, X., Faget, L., Bednarek, E., Schwab, Y., Kieffer, B.L. & Massotte, D. Cell Mol Neurobiol. 2012 May;32(4):509-16. Epub 2012 Jan 18. Europe PMC
Human prion protein binds Argonaute and promotes accumulation of microRNA effector complexes. Gibbings, D., Leblanc, P., Jay, F., Pontier, D., Michel, F., Schwab, Y., Alais, S., Lagrange, T. & Voinnet, O. Nat Struct Mol Biol. 2012 Apr 8;19(5):517-24, S1. doi: 10.1038/nsmb.2273. Europe PMC
Expression of exocytosis proteins in rat supraoptic nucleus neurones. Tobin, V., Schwab, Y., Lelos, N., Onaka, T., Pittman, Q.J. & Ludwig, M. J Neuroendocrinol. 2012 Apr;24(4):629-41. doi: 10.1111/j.1365-2826.2011.02237.x. Europe PMC
Targeted ultramicrotomy: a valuable tool for correlated light and electron microscopy of small model organisms. Kolotuev, I., Bumbarger, D.J., Labouesse, M. & Schwab, Y. Methods Cell Biol. 2012;111:203-22. Europe PMC
The podocyte protein nephrin is required for cardiac vessel formation. Wagner, N., Morrison, H., Pagnotta, S., Michiels, J.F., Schwab, Y., Tryggvason, K., Schedl, A. & Wagner, K.D. Hum Mol Genet. 2011 Jun 1;20(11):2182-94. Epub 2011 Mar 14. Europe PMC
PAT-12, a potential anti-nematode target, is a new spectraplakin partner essential for Caenorhabditis elegans hemidesmosome integrity and embryonic morphogenesis. Hetherington, S., Gally, C., Fritz, J.A., Polanowska, J., Reboul, J., Schwab, Y., Zahreddine, H., Behm, C. & Labouesse, M. Dev Biol. 2011 Feb 15;350(2):267-78. Epub 2010 Dec 3. Europe PMC
Defects in amphiphysin 2 (BIN1) and triads in several forms of centronuclear myopathies. Toussaint, A., Cowling, B.S., Hnia, K., Mohr, M., Oldfors, A., Schwab, Y., Yis, U., Maisonobe, T., Stojkovic, T., Wallgren-Pettersson, C., Laugel, V., Echaniz-Laguna, A., Mandel, J.L., Nishino, I. & Laporte, J. Acta Neuropathol. 2011 Feb;121(2):253-66. Epub 2010 Oct 7. Europe PMC
Mammalian retinal horizontal cells are unconventional GABAergic neurons. Deniz, S., Wersinger, E., Schwab, Y., Mura, C., Erdelyi, F., Szabo, G., Rendon, A., Sahel, J.A., Picaud, S. & Roux, M.J. J Neurochem. 2011 Feb;116(3):350-62. doi: 10.1111/j.1471-4159.2010.07114.x. Epub2010 Dec 13. Europe PMC
Reevaluation of dystrophin localization in the mouse retina. Wersinger, E., Bordais, A., Schwab, Y., Sene, A., Benard, R., Alunni, V., Sahel, J.A., Rendon, A. & Roux, M.J. Invest Ophthalmol Vis Sci. 2011 Oct 7;52(11):7901-8. doi: 10.1167/iovs.11-7519.Print 2011. Europe PMC
A precise and rapid mapping protocol for correlative light and electron microscopy of small invertebrate organisms. Kolotuev, I., Schwab, Y. & Labouesse, M. Biol Cell. 2009 Dec 4;102(2):121-32. Europe PMC
From dynamic live cell imaging to 3D ultrastructure: novel integrated methods for high pressure freezing and correlative light-electron microscopy. Spiegelhalter, C., Tosch, V., Hentsch, D., Koch, M., Kessler, P., Schwab, Y. & Laporte, J. PLoS One. 2010 Feb 3;5(2):e9014. Europe PMC
AAV-mediated intramuscular delivery of myotubularin corrects the myotubular myopathy phenotype in targeted murine muscle and suggests a function in plasma membrane homeostasis. Buj-Bello, A., Fougerousse, F., Schwab, Y., Messaddeq, N., Spehner, D., Pierson, C.R., Durand, M., Kretz, C., Danos, O., Douar, A.M., Beggs, A.H., Schultz, P., Montus, M., Denefle, P. & Mandel, J.L. Hum Mol Genet. 2008 Jul 15;17(14):2132-43. Epub 2008 Apr 22. Europe PMC
A Caenorhabditis elegans model for epithelial-neuronal transdifferentiation. Jarriault, S., Schwab, Y. & Greenwald, I. Proc Natl Acad Sci U S A. 2008 Mar 11;105(10):3790-5. Epub 2008 Feb 28. Europe PMC
DYC-1, a protein functionally linked to dystrophin in Caenorhabditis elegans is associated with the dense body, where it interacts with the muscle LIM domain protein ZYX-1. Lecroisey, C., Martin, E., Mariol, M.C., Granger, L., Schwab, Y., Labouesse, M., Segalat, L. & Gieseler, K. Mol Biol Cell. 2008 Mar;19(3):785-96. Epub 2007 Dec 19. Europe PMC
Endogenous modulators of synaptic transmission: cannabinoid regulation in the supraoptic nucleus. McDonald, N.A., Kuzmiski, J.B., Naderi, N., Schwab, Y. & Pittman, Q.J. Prog Brain Res. 2008;170:129-36. Europe PMC
The glutamate transporter EAAT5 works as a presynaptic receptor in mouse rod bipolar cells. Wersinger, E., Schwab, Y., Sahel, J.A., Rendon, A., Pow, D.V., Picaud, S. & Roux, M.J. J Physiol. 2006 Nov 15;577(Pt 1):221-34. Epub 2006 Sep 14. Europe PMC
The V0-ATPase mediates apical secretion of exosomes containing Hedgehog-related proteins in Caenorhabditis elegans. Liegeois, S., Benedetto, A., Garnier, J.M., Schwab, Y. & Labouesse, M. J Cell Biol. 2006 Jun 19;173(6):949-61. Europe PMC
Physiological maturation of photoreceptors depends on the voltage-gated sodium channel NaV1.6 (Scn8a). Cote, P.D., De Repentigny, Y., Coupland, S.G., Schwab, Y., Roux, M.J., Levinson, S.R. & Kothary, R. J Neurosci. 2005 May 18;25(20):5046-50. Europe PMC
Dendritically released transmitters cooperate via autocrine and retrograde actions to inhibit afferent excitation in rat brain. Hirasawa, M., Schwab, Y., Natah, S., Hillard, C.J., Mackie, K., Sharkey, K.A. & Pittman, Q.J. J Physiol. 2004 Sep 1;559(Pt 2):611-24. Epub 2004 Jul 14. Europe PMC
Expression of tetrodotoxin-sensitive and resistant sodium channels by rat melanotrophs. Schwab, Y., Jahke, R. & Jover, E. Neuroreport. 2004 May 19;15(7):1219-23. Europe PMC
Calcium-dependent translocation of synaptotagmin to the plasma membrane in the dendrites of developing neurones. Schwab, Y., Mouton, J., Chasserot-Golaz, S., Marty, I., Maulet, Y. & Jover, E. Brain Res Mol Brain Res. 2001 Nov 30;96(1-2):1-13. Europe PMC